This is part of a series of posts detailing how my record-breaking ride from Tarifa to Nordkapp panned out. Parts 1, 2, 3 and 4 can be found here, here, here and here. Part 5 begins as I approach the final 1,000 kilometres and edge closer to the Arctic Circle. If you want to know how tough this ride really was, read on below.
Day 17 – 372km –  Karsamaki to Pello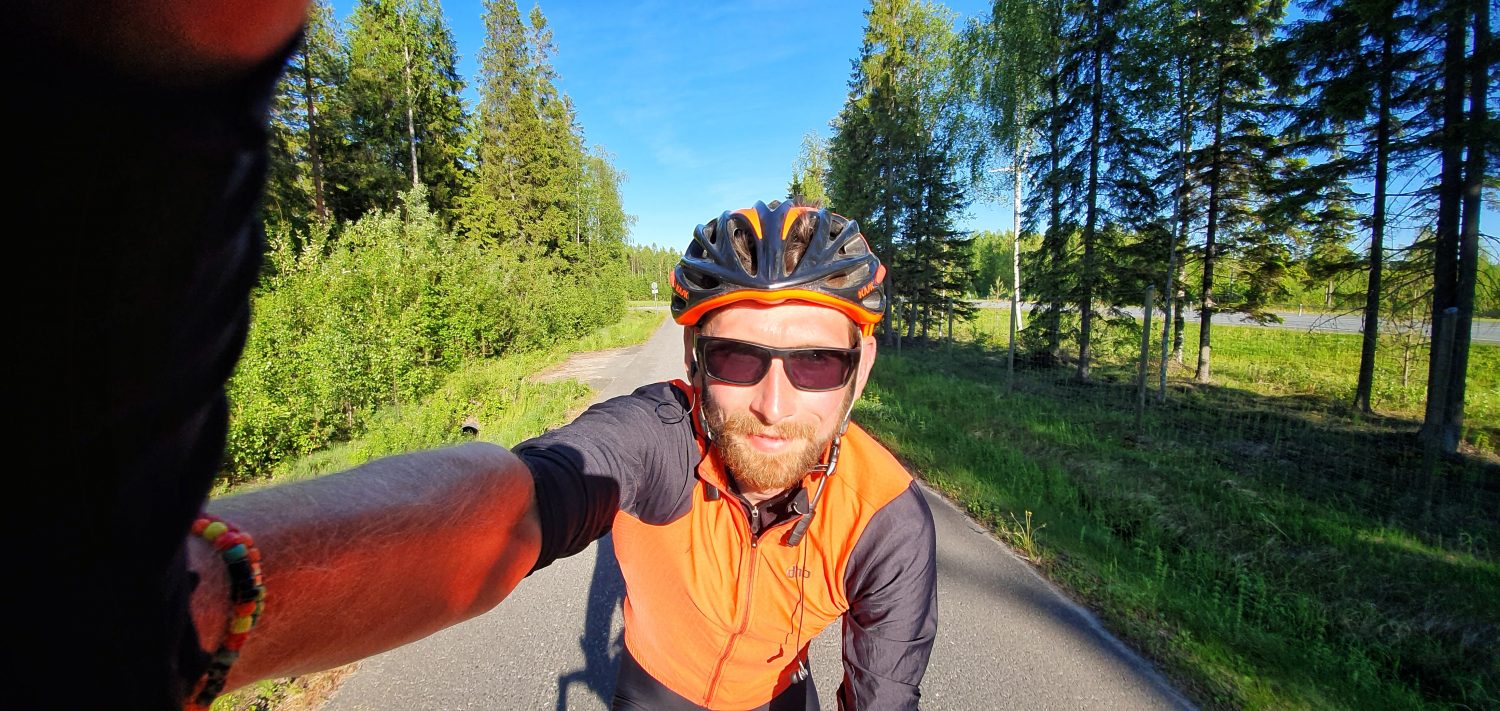 I had been asleep less than four hours when my alarm awoke me. It is hard to describe how bad I felt, so I'll let you judge by my actions. Without leaving my bed, I reached for a sachet of instant coffee. Ripping it open, I poured it into my mouth, followed by a squirt of water from my bike bottle. Shaking my head to mix it, I then swallowed this bitter concoction. I just needed the caffeine hit.
On the bike, my legs barely turned the pedals as I battled to get going. Soon, a fresh wave of tiredness engulfed me and I pulled off the road, collapsing on to a patch of dirt and closing my eyes. After 15 minutes, with the sun warming me, I felt a bit better and got going again.
I battled on until I reached the first service station of the day, where I drank several cups of coffee and demolished a sizeable number of pastries. This did the trick and the fatigue was held at bay as I pushed on towards the city of Oulu, ticking off the 1,000-kilometres-left mark as I went.
I had imagined these final 1,000 kilometres as a sprint finish – driving myself hard to take more time off the record. As it was, I was pushing myself to the limit but just to keep myself moving. The riding was flat, but I was facing a sustained, but not yet strong, headwind, as I slowly spun my way north.
This slow progress, combined with irregular meal times and a sun that stayed high in the sky started to confuse my sleep-deprived brain. The day stretched on without me having any real concept of what time it was. At around 22:00, I found a petrol station to gorge on overpriced sandwiches at. I tried a new variety energy drink, "Motor Oil" – complete with a plethora of health warnings, before pressing on north, away from the coast and into Finland's sparsely populated interior.
The sun briefly dipped below the horizon at around 01:00, but even then it just felt like dusk. Waves of tiredness engulfed me as I spun my way over rolling terrain. At around 04:00 in the morning, under a blazing sun, I arrived an enormous sign marking the Arctic Circle. It was a surreal experience. I cycled on for another hour before rolling off the road, falling fully clothed into my bivvy bag and lying down to sleep on the damp, peaty soil.
From Instagram Stories:
Strava: https://www.strava.com/activities/2450634565
Day 18 – 306km – Pello to Guovdageaidnu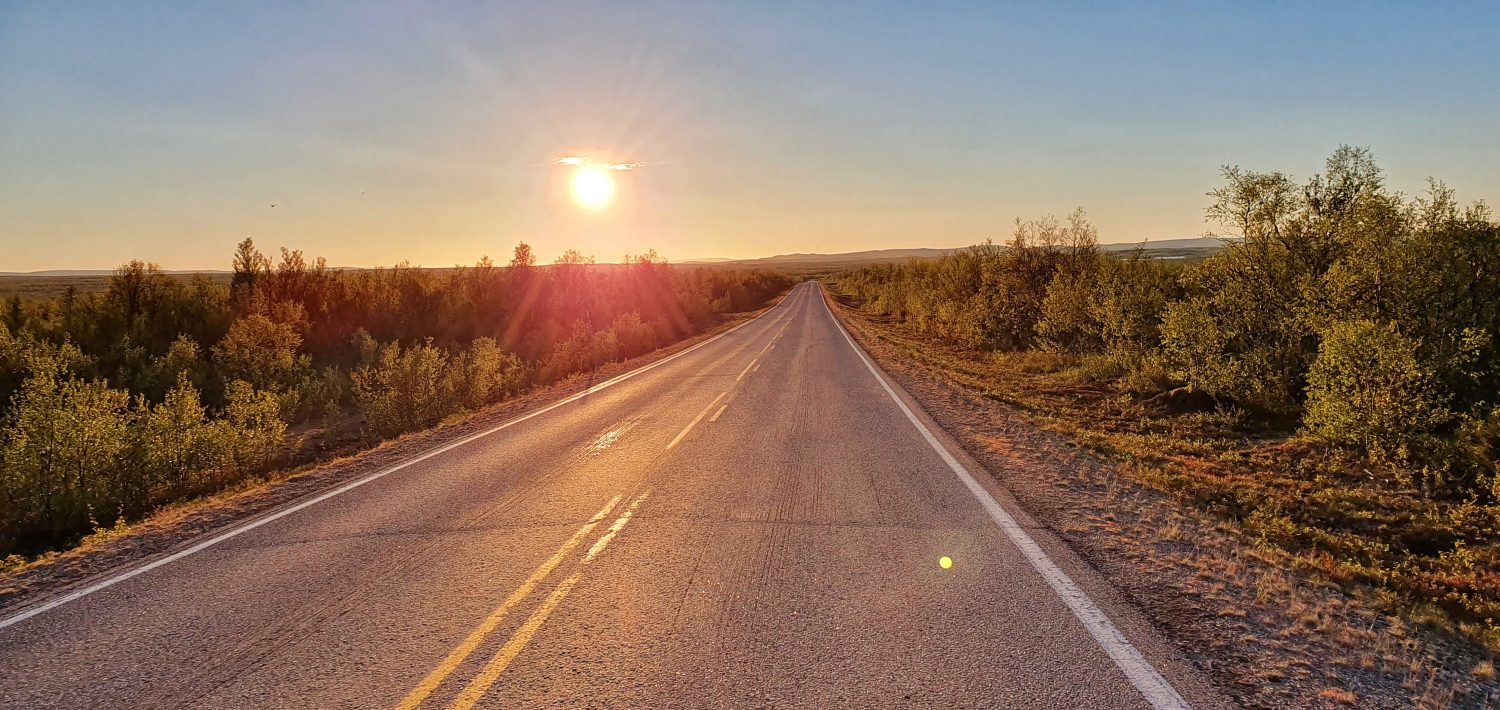 An hour later, my alarm blared. I awoke, shivering slightly, and regretted not getting my sleeping bag out. Feeling exhausted but oddly revitalised, I dragged myself back onto my bike and pedalled the few kilometres into the next town. Here, a truck stop was already full of grizzled-looking Finns and I wandered in feeling like I had just walked into the town saloon in the Wild West.
Strong black coffee and several doughnuts perked me up a little, then I forced myself back on the road. The headwind battered me and a series of big rollers tested my empty legs. I was making my way through dense pine forest, with little in the way of distractions, apart from reindeer, of course. These became regular companions as the day wore on, wandering across the road in front of me.
As expected, towns were now hours apart and I spent the day slowly moving from one refuelling point to the next, seeing only pine forests, a few cars and herds of reindeer in between.
The final refuelling point was the tiny village of Hetta, which preceded a 200-kilometre stretch of nothingness. It purported to have a 24-hour petrol station. But, as I reached an empty forecourt at around 21:00, I realised that my luck had run out. Rolling the dice, I walked into the neighbouring campsite, hoping for some supplies. A minute later, I returned – having engaged in some excellent sign language with a bemused Finnish lady – holding several packets of biscuits and some sweets.
This meant another evening without a proper meal, but at least I would not starve. I had a fraction of the food I needed to cycle 200 kilometres, but it would have to do.
I pressed on to the Norwegian border. And, with a sense of enormous relief, crossed into my final country. The distance remaining ticked below 400 kilometres and the midnight sun lit the Arctic tundra ahead of me. For a moment, the headwind subsided and I freewheeled in the middle of the empty road, taking in the beauty of the place.
From Instagram Stories:
Strava: https://www.strava.com/activities/2453248593
 Day 19 – 221km – Guovdageaidnu to Skaidi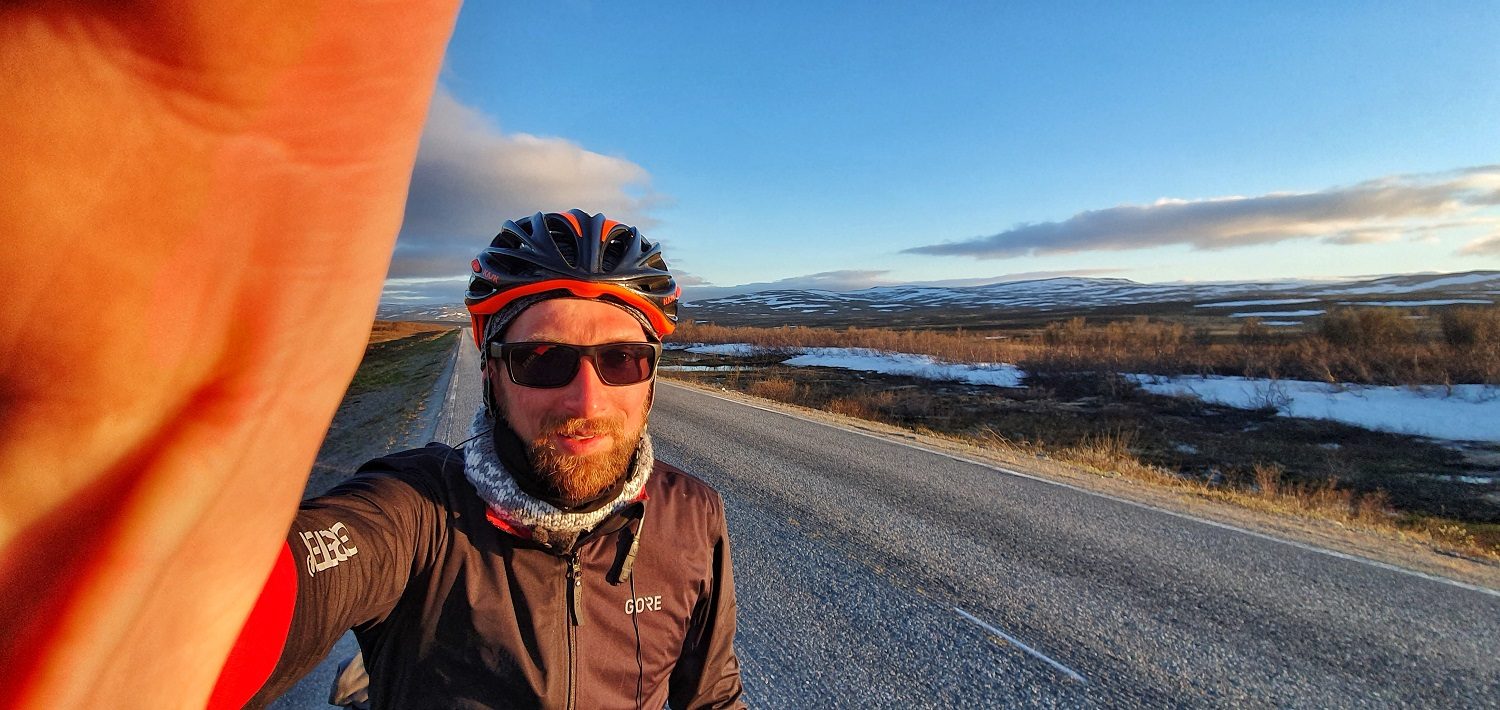 Unfortunately, this moment of bliss did not last long. As the sun dipped close to the horizon, the temperature plummeted and the icy air chilled my hungry body to its core. With this cold came a wave of tiredness. Looking for shelter, I spotted a motel porch in the first small hamlet that I passed through. Barely thinking, I pulled out my sleeping bag and collapsed, asleep, onto the porch floor.
Half an hour later, I awoke as if from a coma. Forcing myself on to the bike, I pressed on, keen to make this catnap my only sleep of the night. However, although my mind told me I could continue, my body was suddenly refusing to obey. After a futile battle with exhaustion – all the time pedalling onwards – I rolled off the road and collapsed into my bivvy bag. Several hours later, I awoke and described what had happened:
I had pushed myself to my limit and found it. The record had slipped by another day, but I knew I had to tackle a more immediate problem: I still had over 100 kilometres to go until the next shop. Back on the bike, I felt completely shattered. My legs struggled to turn the pedals and every metre was a battle. My progress was painfully slow as I again battled a vicious headwind.
The hours passed and I crept closer to the town of Alta and a chance to refuel. Fortunately, some small salvation had arrived in the form of my parents. Waiting for me to arrive in Alta, they had driven out the previous evening and left a food cache beside the road. I found this and wolfed it down. Then, an hour or so later, I came across them parked by the road – bearers of hot coffee and snacks.
But before I could even make Alta, a fresh wave of tiredness hit me. My eyes were so heavy that I did not feel safe cycling. I lay down for 15 minutes – enough to get rid of the crushing weight on my eyelids.
In Alta, I spent an obscene amount of money eating everything on offer at a petrol station cafe. I felt more human than I had in days. This gave me fresh energy to head out into the wilderness again. The next section took me into a desolate landscape, now treeless, where snowdrifts still lay in the shade. The wind howled as I ground my way across this featureless terrain, fuelled by not just the food in my stomach but the harsh beauty of my surroundings.
With 150 kilometres left to Nordkapp, I reached the hamlet of Skaidi, where my parents were staying. A friendly waitress had saved me an enormous plate of food, which I devoured. I then collapsed fully clothed onto a bed for an hour-long power nap.
From Instagram Stories:
Day 20 – 150km – Skaidi to Nordkapp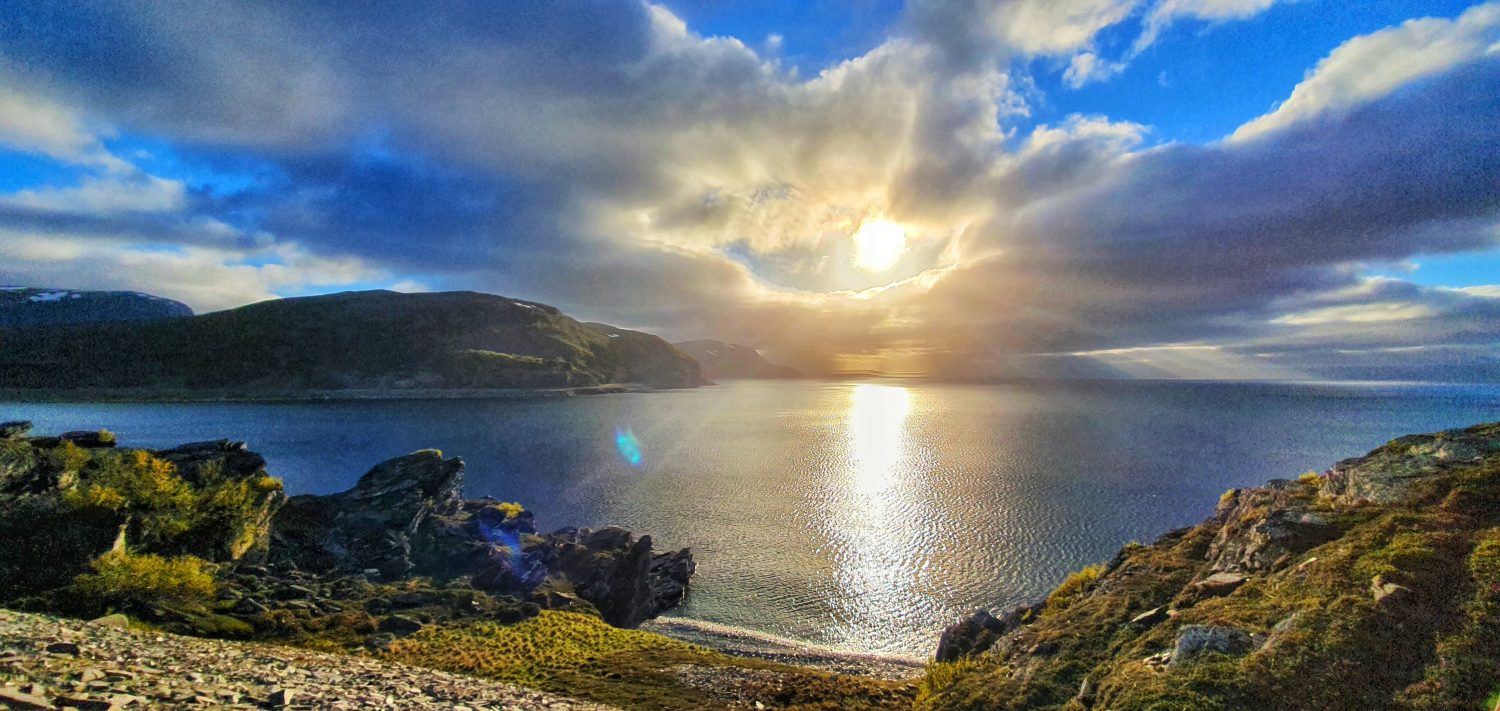 At midnight, wearing every layer I had, plus more that I had borrowed from my dad, I eased myself back onto the bike for the final assault. Progress was painfully slow, as the now-ever-present headwind grew in strength and pressed against me.
Slowly, I ticked off the miles, winding my way along this exposed Arctic coastline. The sky was now a grey murk, which combined with the constant light, added to the odd feeling of time standing still.
After almost six hours of battling, I reached the Nordkapp road tunnel. This bizarre construction is the only way to access Nordkapp, which is technically an island. I hurtled down into the darkness, descending until the tunnel passed under the seabed, before I then had to grind my way back up and out into daylight.
Shortly afterwards, I passed through the last town of Honningsvag. From here, I knew that 30 kilometres of brutally exposed riding awaited me – the final approach to Nordkapp. As expected, the wind howled across this bare landscape, as I tackled a series of short but cruelly steep climbs. But with the end in sight, my legs found fresh energy. I pounded the pedals and surged up the 10% inclines.
However, the descents were far sketchier. As the wind swirled, it buffeted me from side to side. I gripped my brakes and shifted my weight to keep the bike upright.
Finally, the Nordkapp visitor centre came into sight. A mixture of relief and disbelief washed over me, before a surge of pure joy brushed these aside. Forgetting the pain of the previous 6,300 kilometres, I launched a full-out sprint for the line. My thighs pumped as I passed a cheering parking attendant and let out a roar of satisfaction that was swallowed by the wind. One arm was lifted from the bars in a triumphant fist, the other gripping on tightly.
The Record Was Broken
It was over. Photos followed, but it was then that the ride finished. This was the culmination of 19.5 days of complete dedication to a singular mission. It had truly tested me. I had been frustrated, hurt and exhausted. But I had also found joy, freedom and self-discovery.
I had had the rare privilege of pushing myself to my limit and seeing what happened. Those last 36 hours were some of the hardest of my life, but they were also some of the most fascinating and rewarding. I finished knowing that I could have gone faster, but I could not have given more.
Ian Walker, who would annihilate my record less than a month later, summed it up nicely: "I think there's no doubt you left it all out there on the course." And that is something I can always be proud of.
From Instagram Stories:
Strava (last 36 hours): https://www.strava.com/activities/2456963173