This is part of a series of posts detailing how my record-breaking ride from Tarifa to Nordkapp panned out. Part 1, 2 and 3 can be found here, here and here. Part 4 begins as I approach Russia, having battled busy roads and some tiring gravel detours during my time in the Baltics. 
Day 13 – 303km –  Zarasai to Pskov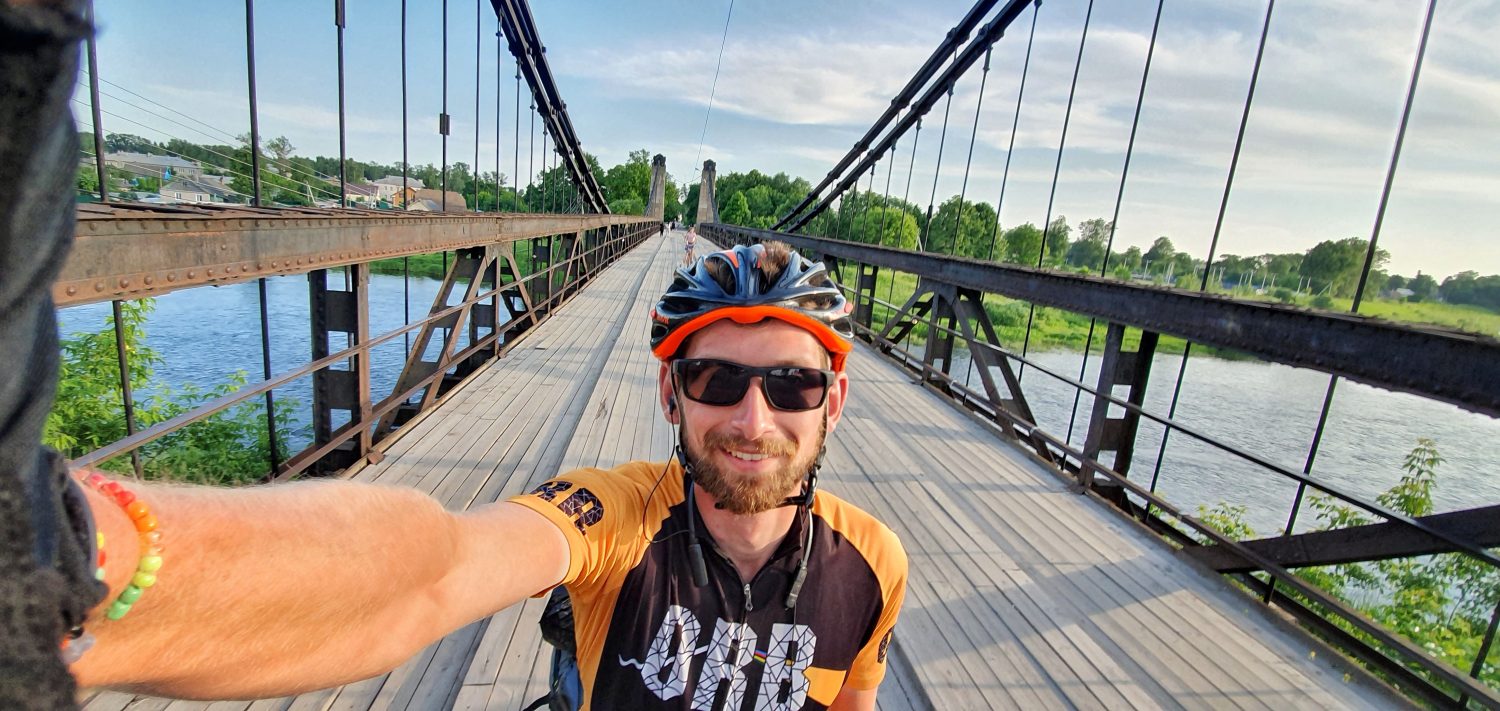 With the battling nature of the previous day's gravel adventures, I had eaten and drunk far less than I should have. As I set off in the morning, cycling through a cold mist, I could feel the repercussions of this elemental mistake. By this point, tiredness in the morning was expected. But for the first time, my legs felt empty and I struggled to even turn the pedals.
I cycled for an hour, crossing into Latvia, before I reached the city of Daugavpils. Here, a picnic bench was just too inviting and I lay down for a 15-minute power nap. This, combined with coffee and some chocolate, gave me enough energy to press on. I was given extra motivation by the continued absence of trucks on the road towards Russia, which allowed to get my head down.
Unfortunately, the flat terrain and poorly surfaced road meant that my soreness in the saddle was just getting worse and worse. I was unable to find any comfortable position. Eventually, I stopped at a pharmacy to try something I had heard other cyclists recommend – nappy rash cream. The mild anaesthetic properties provided some welcome relief and, as I pushed on into the afternoon, I finally found some rhythm.
Around 16:00, I made it to the Russian border – a significant milestone. Surprisingly, it was leaving Latvia that took the most time, with the Russians happy to fast-track me through immigration and customs. It still cost me an hour and I pushed on with renewed energy as a tailwind picked up.
I sped along for the next couple of hours, stopping to pick up some food in the town of Ostrov, where a young policeman insisted on acting as translator. From here, I diverted from my planned route again, avoiding the main highway towards St Petersburg. This was possibly overcautious, but I was in no mood to risk this major trucking route, especially with sunset nearing.
The alternative route was beautifully rural but provided me with a bone-jarring initiation to cycling on Russian backroads. The surfaces were horrendous.
The day ended in a surreal fashion, as I cycled through a sizeable military training exercise. APCs thundered past me and gunfire crackled in the darkness.
From Instagram Stories:
Strava: https://www.strava.com/activities/2440093089
Day 14 – 333km – Pskov to Saint Petersburg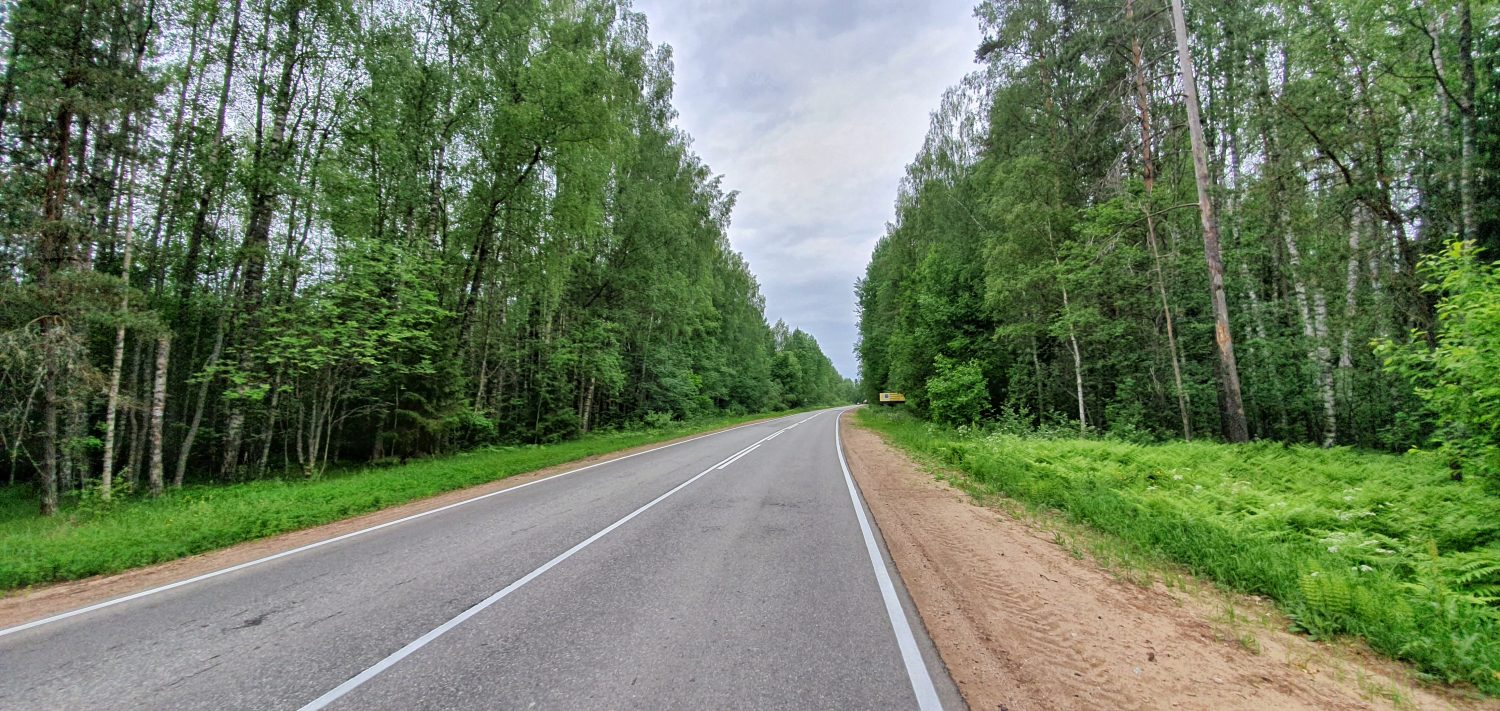 It was starting to get harder and harder to get from bed to bike. And I managed to waste time faffing, before stepping out into murky daylight. I again opted to stay off the main highway and set off on a quiet B-road.
This route took me through endless birch and pine forest, giving me views that I imagine can be found across huge swathes of Russia. As I stepped off the bike to water this forest for the first time, I met some of the local inhabitants. A cloud of mosquitos descended on my uncovered legs. Within seconds, I had at least 30 of the things drinking my blood. Even as I cycled off, they stuck to me – until I wiped them off in a messy smear of blood.
However, this was the least of my problems. Despite the innocuous-looking road surface, it was actually heavily degraded and lined with cracks. This slowed me down and made for a long and bumpy day of cycling. I ground on slowly, fuelled by a succession of Russian petrol stations.
Eventually, I joined the highway heading into Saint Petersburg and began to push for the city before darkness fell. Although the traffic increased, a narrow shoulder kept me safe as I pressed on. But, yet again, this demanded real focus. Fortunately, the asphalt was smooth and I rediscovered my rhythm, entering a zone of total concentration as I pushed for the city.
My reward was a takeaway pizza on the outskirts, before I spun on in darkness for a hotel. Pleased with my good progress, I should have realised Russia was going too smoothly. Sure enough, the hotel's card machine was broken and I was treated to a wonderful display of Russian apathy from the receptionist. After failing to find an ATM, I ended up going to an entirely different hotel, falling into bed over an hour later than planned.
From Instagram Stories (filmed early the next day):
Strava: https://www.strava.com/activities/2442637907
Day 15 – 287km – Saint Petersburg to Puumala
Today was the day that I really started to crack.
It began with a strong headwind as I navigated the centre of Saint Petersburg. This was surprisingly stress-free, as I made my way towards a bridge over the broad Neva River estuary. I had plotted a route over a bridge that connected the city's football stadium – located on an island – with the far side of the estuary.
This seemed like a great plan, until I arrived to find a maze of streets, car parks, stadium access roads and paths. It took three attempts, directions from several locals and over half an hour, just to find my way on to this bridge. I almost gave up completely, but the alternative bridge would have added at least 10 kilometres of cycling, most of it back through the city.
Once I got clear of the city, I found myself following the coastline, passing by spacious dachas and a couple of youth cycling teams. Leaving the coast, I cut through undulating pine forest, closing in on the Finnish border. Unfortunately, the last 50 kilometres of road were largely road works, with long delays and even longer stretches on dusty gravel. It was slow and unpleasant cycling, with large logging trucks squeezing past.
As I crossed into Finland, a sense of relief washed over me. Russia had been tough. The tarmac instantly improved and my speed picked up. However, it was early evening and I was well behind schedule. I grabbed some food and pressed onwards, hoping to cycle late. But as dusk closed in, the temperature plummetted to 5°C. A series of beautiful lakes seemed to chill the air and I was soon wearing all my layers.
I pressed on, but the cold created another problem. My hands – battered and sore from the Russian roads – gave up. In particular, the nerve damage in my right hand became far more noticeable; I was unable to change gear. Admitting defeat, I accepted Mum's offer of booking a cabin on the road ahead and ended the day well short of where I had hoped to be.
From Instagram Stories:
Strava: https://www.strava.com/activities/2445333779
Day 16 – 348km – Puumala to Karsamaki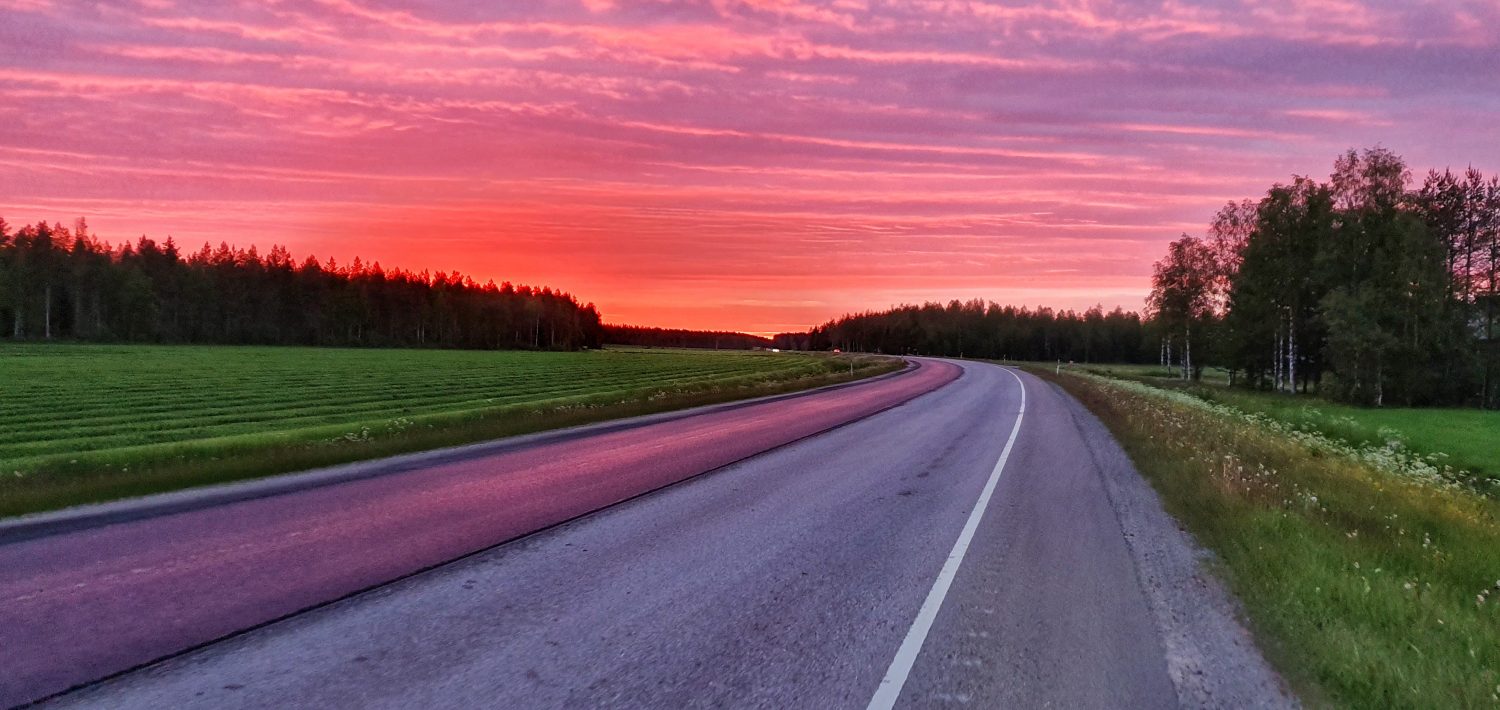 The following day was oddly murky and cold. A hot shower had brought life back into my hands, but I knew I needed to find some more clothes before I got too far north. This had always been the plan, but I was surprised to have gone from wearing just lycra to all my layers in only 24 hours.
Fortunately, even sparsely populated Finland was able to provide me with a decent clothing store. I sacrificed 30 minutes of cycling for the chance to buy some gloves, a hat, a buff, a fleece and a pair of thick socks. It was worth the delay and I felt much warmer as I got back on the bike.
Another thing to help warm me up was the Finnish terrain, which was not the pancake-flat landscape that I had been envisaging. Although not hilly, my day was punctuated with countless short, sharp climbs that sapped my strength.
I also hadn't realised how wild this section was going to be. I found myself going through very few towns, with warning signs for elks now far more common than petrol stations. And to add to the challenge, my route along minor roads took me on two sizeable gravel sections – totalling almost 35km in total. Fortunately, these were well graded and barely cost me any time.
Despite this, it had been another slow day. As I spun away past midnight, I was rewarded with a beautiful sunset – reminding me how far north I now was. The end was almost in sight and I was really starting to suffer.
My final voice note of the day said a lot about the toll on my mind and body: "I'm starting to think about the end now. I can't wait to not be cycling."
From Instagram Stories: