This is part of a series of posts detailing how my record-breaking ride from Tarifa to Nordkapp panned out. Part 1 can be found here. Part 2 begins on my first morning in France, with me having entered from Spain during the previous evening and spent the night sleeping out.
Day 5 – 333km –  La Palme to Bourg-de-Peage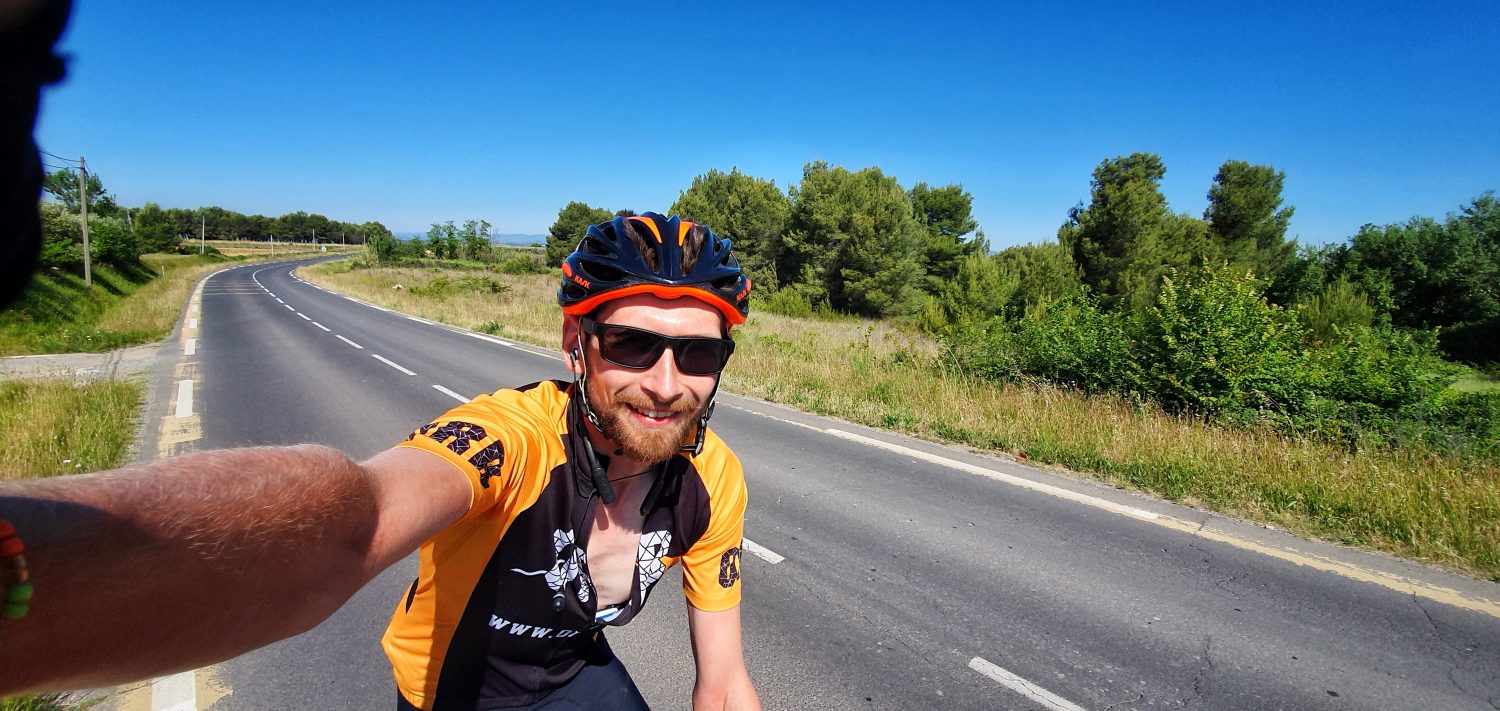 Sleeping out under the stars next to a field of vines sounds wonderfully romantic. And, actually, I slept like log. However, I awoke to an unpleasantly wet bivi bag, with condensation clinging to the inside. This was odd, as the bag was breathable and it hadn't been particularly cold. I could only think that morning fog and humidity must have prevented it from breathing.
Either way, I set off with a very damp bivi bag and, more worryingly, a damp down sleeping bag. The humidity also stayed in the air and I began with a thick grey murk covering the landscape. Not a great start to the day.
However, things perked up when I managed to get my first chausson aux pommes of the trip after an hour or so of cycling. These buttery apple turnovers are easily the best thing about France, in my opinion (I'm teetotal and hate blue cheese, so the other options are limited).
The sun soon burned away the moisture and I began to settle into a rhythm. My route was flat and I began to follow the coastline – albeit quite a way inland – as I squeezed between French cities.
It was Sunday, which was a little bit of a problem. The roads were again busy with holiday traffic and I really struggled to find anywhere to buy food. Lunch ended up being (vegetarian) McDonalds in an empty supermarket car park, whilst I dried my sleeping kit on the hot tarmac. I got some odd looks, but it was the lost time that annoyed me far more.
Fortunately, as I swung north up the Rhone Valley, a tailwind picked up and I made good speed. A strong evening shift made up for the lost time and I hit my daily target of 330km again.
From Instagram Stories:
Strava: https://www.strava.com/activities/2418926567
Day 6 – 302km – Bourg-de-Peage to Payerne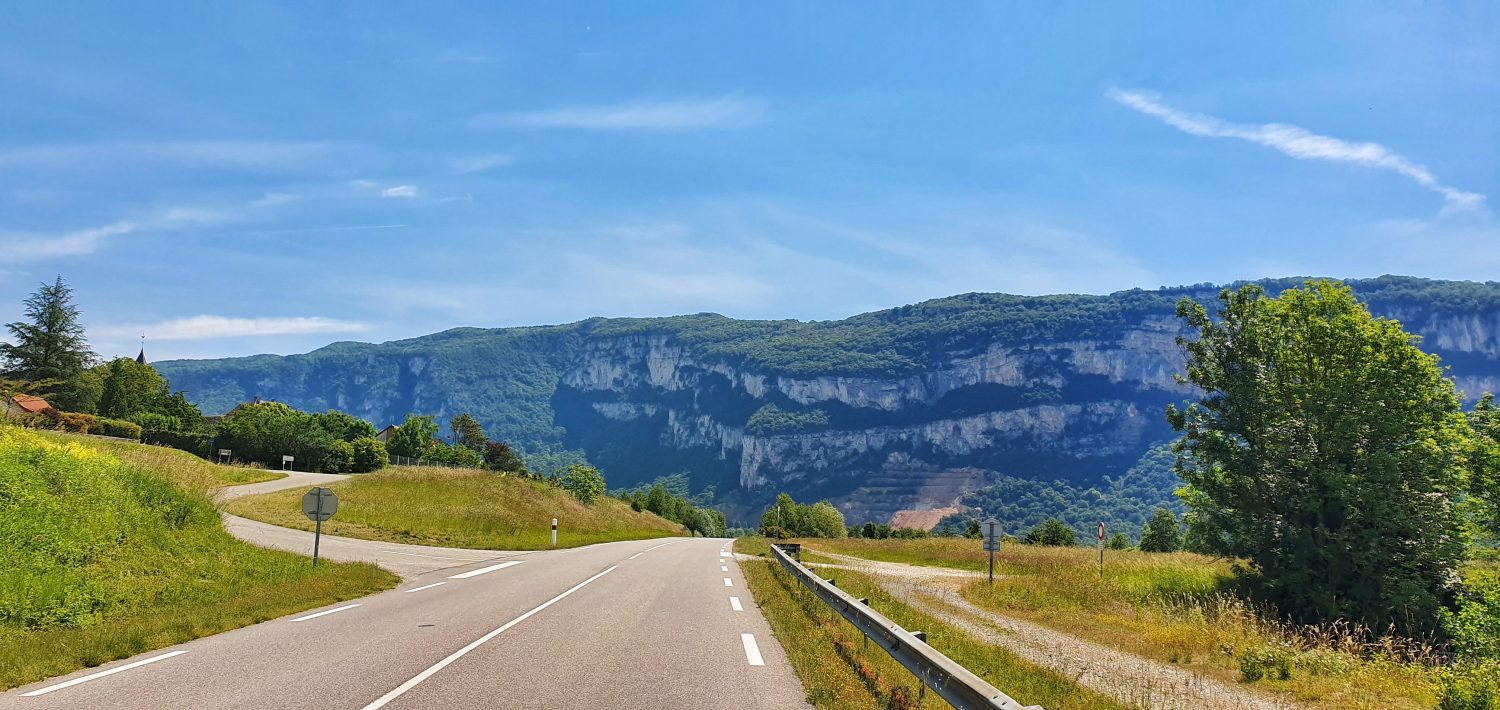 I was a little slow to get going, having woken up to find my washed lycra was still soaking wet. I got back into bed and tried to use my body heat to dry it. This was a somewhat successful tactic, but it definitely wasn't worth the 20 minutes I wasted. My brain is not at its best when I wake up and this was proof of that.
After an hour on the bike, the arrival of the first climb brought with it beautiful views and I soon fell into a good rhythm. The variety and beauty of climbing always seem to wake up my legs, no matter how tired I'm feeling. I knew this would be a day of three decent climbs – in contrast to the flat couple of days previously.
Despite the beauty of this climbing, there was no doubt it was slowing me down. I had begun to set myself mini time goals during the day, although these shifted depending on my schedule. But on a good day, departing at 05:30, I was aiming for 100km by 10:30, 200km by 15:30 and 300km by 21:00. I rarely made these time targets, so the aim was always not to lose more time in the next section.
This was a day when I definitely didn't hit my targets. I crossed into Switzerland without even realising it, but soon found myself making very slow progress through Geneva and then along the lakeshore towards Lausanne. The road had been torn up in numerous places and a vicious headwind was whistling down the lake, as a storm threatened to break.
I pressed on, but my slow morning and the climbing had already had an impact. Despite picking up speed after dark, I only managed 302km for the day. I was really disappointed and part of me wanted to push on late into the night, making up the distance. But, instead, I promised to myself that I would put the hours in on the following day. I was tired, but my determination showed no sign of wavering.
From Instagram Stories:
Strava: https://www.strava.com/activities/2421226572
Interestingly, today was the first time that I noticed I was #1 in the world on June's Strava leaderboard. I would hang on to top spot for most of the next two weeks – not a bad effort when there were 300,000 other people trying to knock me off my perch. I eventually finished the month in 15th, despite only cycling for the first half of June.
Day 7 – 351km – Payerne to Unterelchingen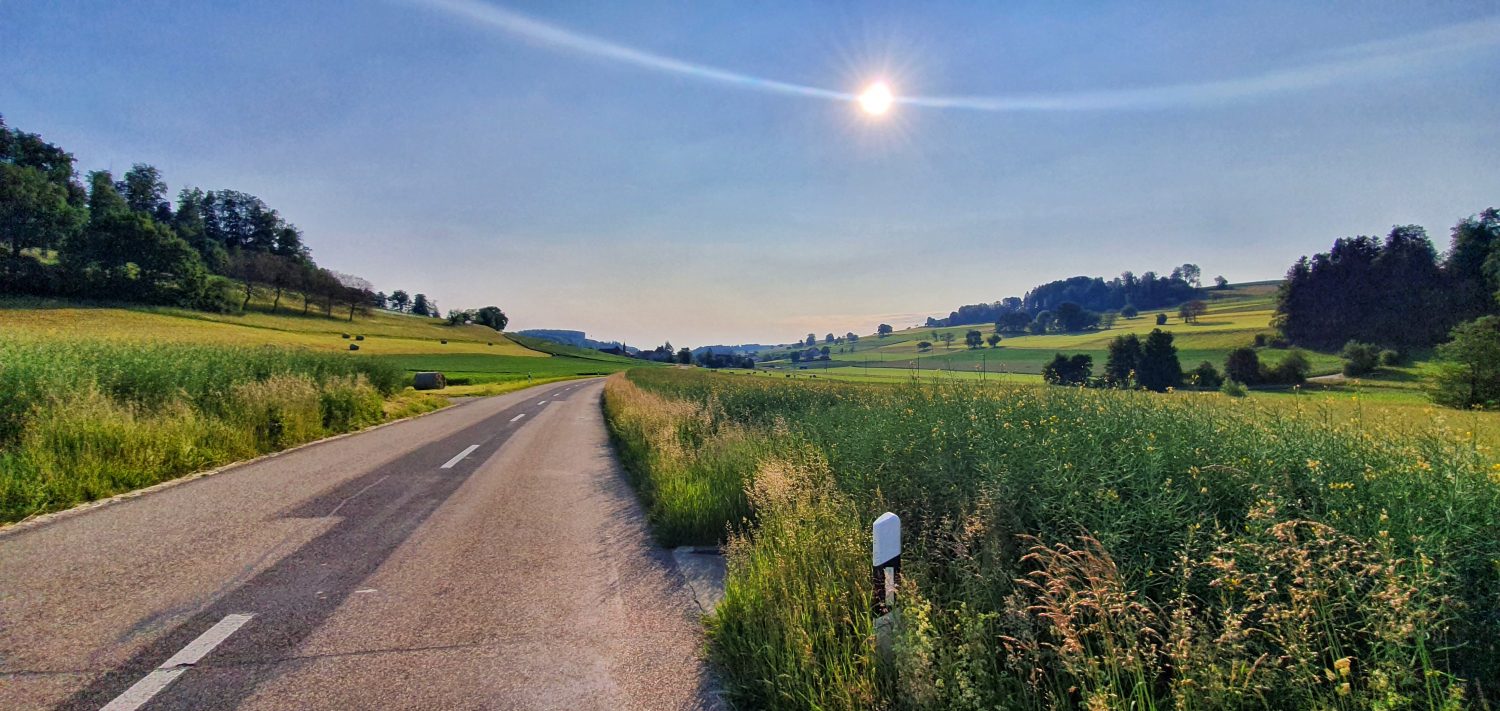 It was strange how much my pride was bruised from the previous day's ride. Prior to Easter 2019 I had only passed 300km once, back in 2008. Yet, here I was, ashamed that I hadn't reached 330km. I think this was because I simply hadn't put the hours in. Under 14 hours in the saddle, despite good conditions, just wasn't enough. And I was keen to correct this.
Therefore, I set off with renewed focus in the morning. I felt surprisingly strong, despite some very poor value sleep. The previous night had cost me £80 for five hours of rest, with neighbouring church bells ringing every 30 minutes. Thanks, Switzerland.
I began to work my way northeast, crossing between Switzerland and Germany several times, before finally entering Germany properly near Lake Constance. It was a slow day of riding, marked by numerous cycle paths, steep climbs and hot weather. The terrain flattened out as dusk fell and I found myself in a surprisingly remote part of Germany. Dinner was a vegan McDonalds burger – the definite low point of an otherwise positive day.
I pressed on as darkness fell and, with less traffic on the roads, passed quickly through city of Ulm. Just afterwards, I encountered my first and only police stop of the entire the ride. The bemused German officers were happy to wave me on, but not before I had managed to recruit one of them to sign my witness book for Guinness.
I rolled to a stop after over 16 hours in the saddle, just past the magical 350-kilometre mark. I went to bed on a high – immensely pleased to have bounced back after the previous day's disappointment.
From Instagram Stories:

Strava: https://www.strava.com/activities/2424080492
Day 8 – 332km – Unterelchingen – Touzim
By this point in the ride, my muscles were obviously aching, but it was my contact points with the bike that were suffering most. In particular, my palms were painfully bruised and the soles of my feet alternated between numbness and soreness.
But, this morning, my Achilles and calves also hurt. I soon realised (largely thanks to Mark Beaumont describing a similar problem in his book, which I was listening to) this was due to me scrunching my toes. This released the pressure on my soles, but clearly put strain on other parts of my legs as I pedalled. As soon as I realised and stopped, the soreness in my lower legs and ankles improved.
I knew the end of Germany was near and this motivated me to push on as I faced hot weather and a headwind. Germany is certainly beautiful, but the country's obsession with cycle paths is a hindrance for anyone doing more than a short commute. I was keen to escape this.
As I neared the Czech border, I battled a succession of rolling hills that challenged my tired legs. But the landscape that greeted me on the other side was beautiful. By this time, the sun was setting and it was looking likely to be a lovely end to a tough day. Unfortunately, in quick succession, two things conspired to scupper this.
Firstly, Google Maps lied to me. The pizza place I had expected to find didn't exist. And every other shop or restaurant was either closed or would require a big diversion. I had quite a few snacks to tide me over, but it was far from ideal. Secondly, I arrived at the final climb of the day to discover it had once been a road but was now unsurfaced hardcore. And with gradients of 6-10%, this made for a really tough few kilometres.
Eventually, I made it to the bar where I had booked a room. Here, I found a very cheerful group of drinkers who were not at all fussed that I had delayed closing time. I fell into bed shattered but again simply happy to have made the distance. It would all begin again in five hours…
From Instagram Stories: