This is part of a series of posts detailing how my record-breaking ride from Tarifa to Nordkapp panned out. Part 1 and 2 can be found here and here. Part 3 begins in the Czech Republic, as I try to recover from a tough (and hungry) first few hours in Eastern Europe. 
Day 9 – 338km –  Touzim to Lubin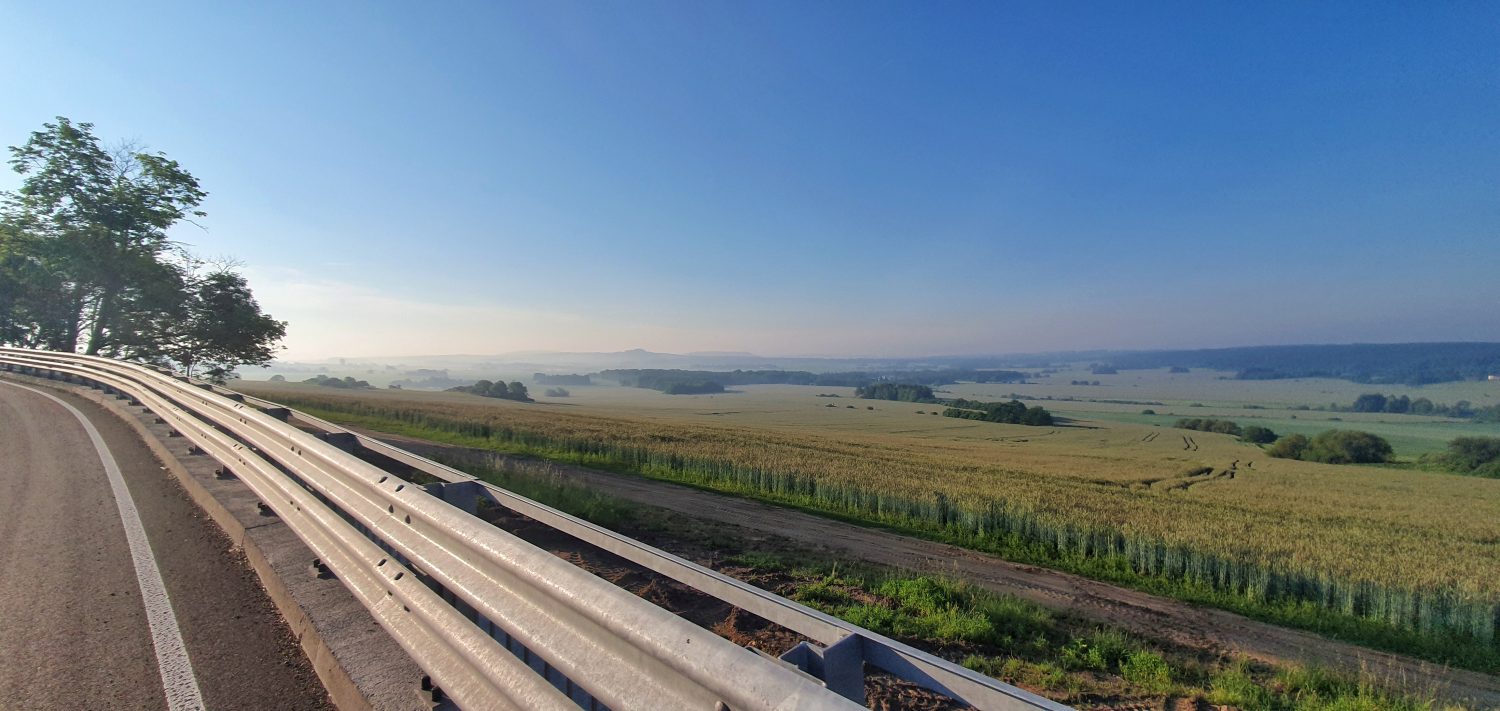 I awoke feeling the lack of a proper meal the night before. My brain also seemed to be suffering. What I had started to call "my bed-to-bike time" was pitifully slow.
Trying to buy some snacks from the first shop I came across soon put a smile on my face, though. The old Czech shopkeeper was shocked at my lycra-clad appearance and a lot of sign language followed. Her bemusement turned to genuine happiness; however, when I left her with all off my remaining Czech coins.
The first few hours of cycling were through woodland and fields, with mist still hanging over the wild landscape. Eagles soared overhead and deer darted across the meadows. It was lovely cycling and a nice way to ease my hungry body back into some kind of rhythm.
Unfortunately, despite my best attempts to keep eating, I hit a major slump later in the morning. For the first time, I turned to coffee as a stimulant, having been careful to limit my intake up to now. I knew that from this point, I was going to need to dig deeper and start to rely on caffeine a little more.
I made my way through some beautiful Czech villages with impressive Baroque architecture, as a tailwind began to pick up. I nipped back into Germany, before entering Poland. With the wind right at my back, I was keen to push on. Despite some heavily potholed Polish roads, I made good progress over flatter terrain. I knew there was more of this to come and the thought spurred me onwards.
However, storm clouds had been gathering all day. As darkness fell, the rain thundered down on me. Cycling through standing water, I slowed right down, arriving at the hotel – that I had, fortunately, had the foresight to divert towards – as a sodden mess.
From Instagram Stories:
Strava: https://www.strava.com/activities/2429961600
Day 10 – 315km – Lubin to Plock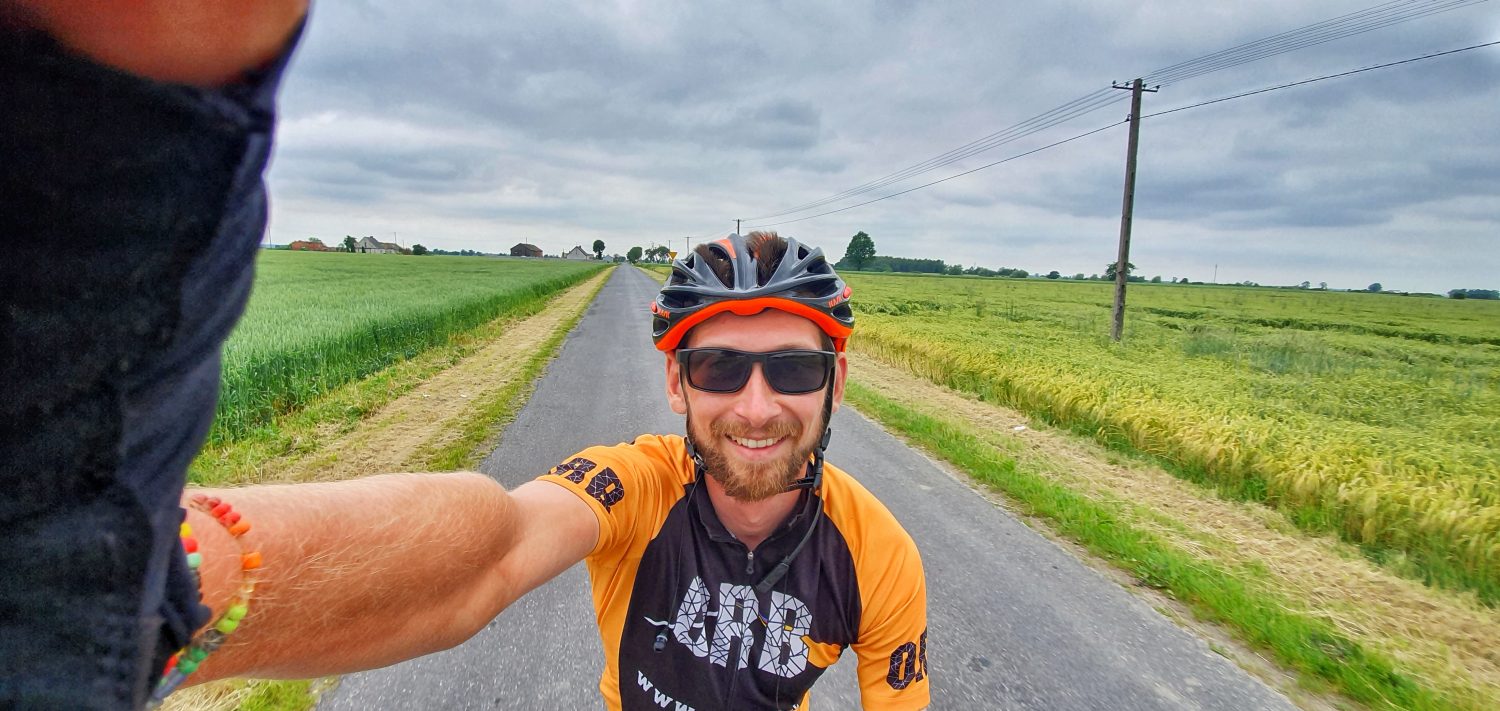 The previous day's tailwind had definitely led me to overcook it a bit. I awoke with my already tired legs feeling much worse than they had until now. Even the flat cycling that immediately greeted me was enough to challenge my tired muscles.
However, a significant milestone provided fresh inspiration. As I bounced along a succession of quiet secondary roads, I closed in on the halfway point of my ride. I had been riding for under nine and 12 hours; I was on target to finish inside 19 days. That would take more than two days off the record.
Reaching this invisible mark brought contrasting emotions. I was thrilled to already be up on target; however, I was very aware that I was starting to suffer and was only halfway. The remaining riding was much flatter, but I knew road and weather conditions would deteriorate.
Unfortunately, the wave of adrenalin that halfway brought actually did more to disrupt my routine than motivate me. After 10 days of focusing on only the road in front of me, it was a mistake to let my mind drift to the big picture. I eventually managed to refocus and drag myself back into my existence of simply eating, sleeping and cycling as efficiently as possible.
In the afternoon, for the first time, I started to struggle with sleepiness. My eyes were really heavy – probably unsurprising since I hadn't hit my five-hour sleep target since the first few days. I stopped for a 15-minute micro-nap under the shade of some trees. I didn't actually sleep, but it seemed to trick my eyes into feeling a little better.
A day of poorly surfaced but quieter roads finished with a busier stretch into the city of Plock. I managed to get off the bike a little earlier, with the aim of re-syncing my routine with the sunrise, which was increasingly early as I travelled northwest.
Strava: https://www.strava.com/activities/2431720014
Day 11 – 340km – Plock to Szypliszki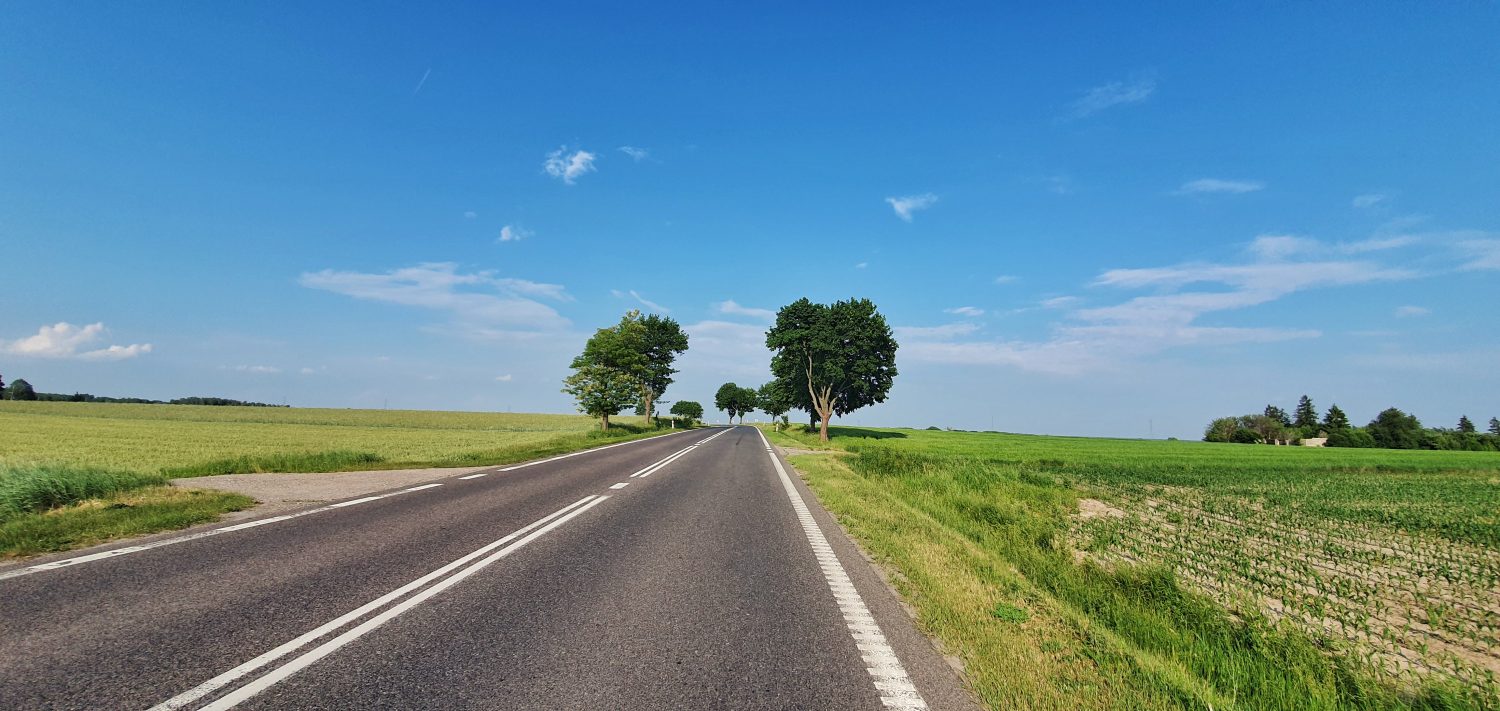 I awoke with my legs feeling a little fresher, perhaps due to a couple of flatter days. The morning went quickly as I again followed a mix of secondary roads through rural Poland. Traffic was quiet, but the surfaces were very mixed.
This flat riding coincided with increasing discomfort in my "saddle area", as 11 days on the bike started to take their toll. I had been washing my shorts every day to reduce salt build-up. However, beginning each day with damp shorts was also not great for my posterior. On flatter roads, the discomfort was increasingly noticeable thanks to the longer stretches in the same position. Chamois butter was helping, but only taking the edge off.
With little in the way of natural targets as I made my way across this rural landscape, I again began to aim for my time targets, getting myself into a good routine. The rest of the day passed in a bit of a blur, although my speed was never more than sedentary.
I settled on booking a hotel at the 340-kilometre mark, with a slight feeling of underachievement. I had to mentally shake myself and remind my sluggish brain that this was still a heck of a day, especially after the riding that had preceded it. It's odd how your perceptions of a big day can change so rapidly.
Unfortunately, this remarkably peaceful day had a sting in the tail. Just after sunset, I joined the main road heading towards Lithuania. The last hour of riding was on an incredibly narrow shoulder as convoys of trucks hurtled past in either direction. It had me on edge the whole time, focussed on my thin sliver of asphalt. It was a horrible end to the day and adrenalin pumped through my veins as I thought of what might lay ahead.
From Instagram Stories:
Strava: https://www.strava.com/activities/2434825829
Day 12 – 291km – Szypliszki to Zarasai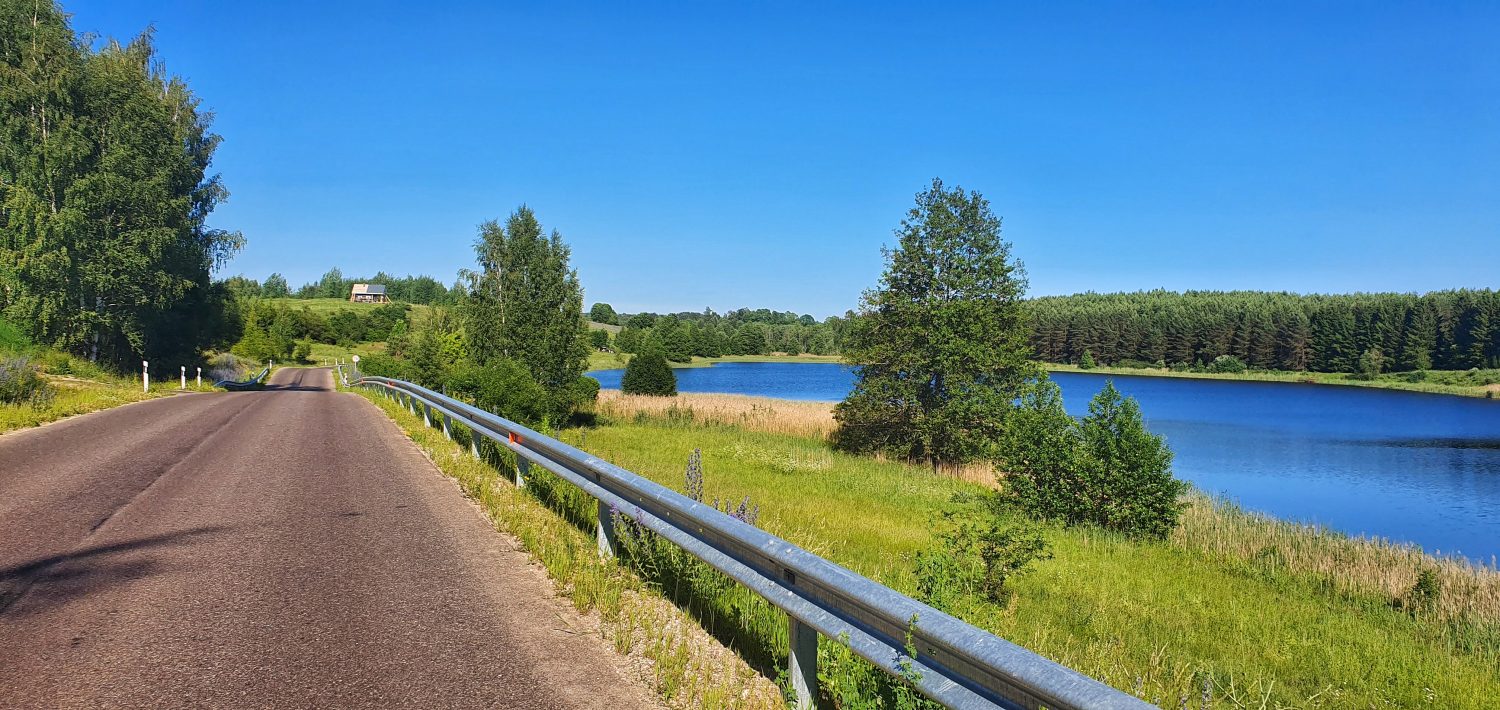 The following day was very odd. I crossed into Lithuania soon after setting off. But when I was spoken to in the first petrol station, I instinctively said, "I'm sorry. I don't speak…" Then my brain and mouth froze. I had completely forgotten whether I was in Latvia or Lithuania. For the first time, I had no idea which country I was in!
The day started as the evening before had ended, with lethal convoys of trucks hurtling past. Knowing I had to follow this road – in one guise or another – for several more days, I spend several hours considering my options. Assuming it would only get worse, I eventually chose to divert, accepting extra distance but a safer route.
This was galling. With a strong finish, I had still hoped to finish within or just over 18 days. Any diversion made this impossible. But I was also keen to set a record that could be broken in the right way, without someone having to risk their life doing it. It was the right decision.
However, I knew my diversion would include some gravel, which would bring different challenges. Initially, I enjoyed the quieter riding on small asphalted roads. But this soon ran out and I found myself battling loose, sandy gravel – the worst kind. It was painfully slow progress and I ground my way through two long sections, having to push in places.
I battled onwards, driven largely by anger at the surface and at the predicament I had got myself into.
But my bad mood turned to bemusement when I rejoined the main road for a stretch and found it oddly truck free. It wasn't until the next day that I got a message from Dad telling me that, apparently, most truck traffic goes north to Riga through Lithuania. This meant that they all turned off at just about the point that I decided I was going to divert.
I finished after what I regarded as a poxy 290 kilometres – I was gutted to have not made 300. But I found solace in knowing that I was alive and my determination was still intact. It takes no small amount of willpower to cycle through loose gravel on a road bike for over an hour. And I still had that willpower; I wasn't broken yet.
From Instagram Stories: